Welcome to the America's Best Dance Crew Wiki!

We hope you will enjoy your stay here and help improve the Wiki -- all your help will be greatly appreciated!

Before you start editing, read this FAQ to learn how to properly edit articles, upload images or personalize your userpage.
It also contains other nifty advice that sets our wiki apart from any other!
If you're having trouble with coding (adding images, tables, etc.), then check out the Help Portal.
If you have any questions regarding the wiki, ask one of these guys 'n' gals or any of our prominent users.
Your userpage is a great place to tell about yourself! If you want additional tips, please refer to our userpage guide.
Hello, I'm Squallinoa_08, founder of ABDC wikia! Thank you so much for your contributions! No, I really don't come here often anymore, however, I've made you a Bureaucrat with Sysop and rollback rights! I've given you these rights since you'll be the one to work on the wikia. So thank you! I'll come back very often to see what you do to the wiki. Squallinoa 08 17:59, 28 February 2009 (UTC)
Skin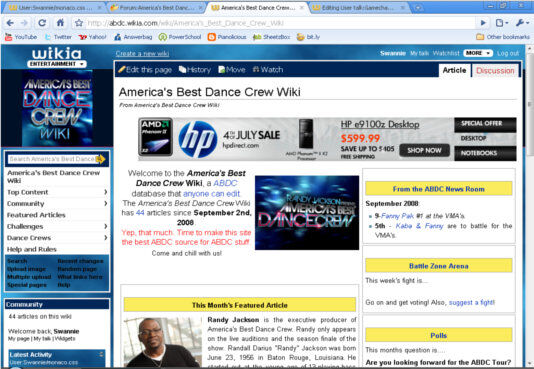 Hi there! I'm Swannie from Logo Creation Wiki. A request was placed there several months ago (when I was absent from Wikia) for a new skin for this wiki. Well, I have started working on Wikia's again in my spare time and have come up with a new skin (look at screenshot). Let me know what you think! If you like it, you can just copy and paste the code from User:Swannie/monaco.css into MediaWiki:Monaco.css and then change the site skin setting to "Custom", and the skin should automatically change shortly. Feel free to contact me with any questions or concerns about this new skin. Thanks, and have a great day! swannie :) 05:10, 29 June 2009 (UTC)
Ad free
Hi! Would you like this wiki to be ad-free? I'm looking for wikis to be part of a new program which would remove all ads from the wiki for $19.95/month.
If you are interested, please be visit here to sign up. Let me know if you have any questions! - sannse (talk) 23:07, May 18, 2010 (UTC)