Jurassic World: Dominion Dominates Fandom Wikis - The Loop
Play Sound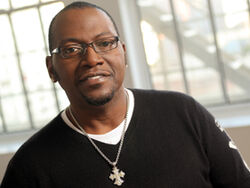 Randy Jackson is one of the executive producers of America's Best Dance Crew. Randy only appears on the live auditions and the season finale of the show, giving them the crew's winning trophy.
Biography
[
]
Randall Darius "Randy" Jackson was born June 23, 1956 in Baton Rouge, Louisiana. He started out at the young age of 13 playing bass guitar.
Music Career
[
]
Jackson got his big break when he joined the critically acclaimed band Journey from 1986 to 1987. He moved to Italy in the late 1980s and produced a record for Italian pop star Zucchero. The record, Zucchero and the Randy Jackson Band, produced one of Zucchero's biggest hits, "Donne".
Jackson was bass guitarist for Tracy Chapman and is featured on several tracks of her 1992 release, Matters of the Heart. He performed on the singles "Bang Bang Bang", "Open Arms", and "Dreaming on a World". That same year, Jackson also played bass on Bruce Springsteen's hit "Human Touch".
Jackson has recorded, produced, or toured with many well-known artists and bands, ranging from Mariah Carey (he has been her musical director for a number of her tours; he was in her band at Live 8 in London in 2005) to *NSYNC, Whitney Houston, Céline Dion, Fergie (dating back to her days in Wild Orchid), Stryper, and Madonna (he played bass on her number-one hit "Like a Prayer").
Jackson played numerous times in Jean-Luc Ponty's backing band. His credits as a session musician range from playing with Aretha Franklin, Roger Waters, Bruce Springsteen, Journey, George Michael, Clarence "Gatemouth" Brown, Billy Cobham, Blue Öyster Cult, Herbie Hancock, Richard Marx, Billy Joel, Bon Jovi, Michael Bolton, and Bob Dylan to playing at the Grand Ole Opry with The Charlie Daniels Band. His production/songwriting work in the San Francisco Bay Area with Narada Michael Walden and Walter Afanasieff led Jackson to be in demand as a producer as well.
He has also worked as an executive, spending eight years as vice president of artists and repertoire (A&R) at Columbia Records and four years heading A&R at MCA Records.
Since 2002, Jackson has been one of the three panel judges, along with Paula Abdul and Simon Cowell, on the Fox Network reality television series American Idol.
Marriage
[
]
Randy Jackson has been married twice. His first marriage, to Elizabeth Jackson, ended in divorce in 1990; they had one child (Taylor) together. Since 1995, he has been married to Erika Riker, with whom he has two children Zoe (age 13) and his son Jordan (age 11).
Health
[
]
In 2003, Jackson lost over 100 pounds following gastric bypass surgery. He stated in a February 2008 television commercial that he has Type 2 diabetes.
TV Production (Birth of ABDC)
[
]
Randy is expanding into TV production, setting up his Dream Merchant 21 Entertainment banner at Warner Horizon Television, which is set to launch MTV's highly anticipated new reality series RANDY JACKSON PRESENTS: AMERICA'S BEST DANCE CREW, as Executive Producer.