Jurassic World: Dominion Dominates Fandom Wikis - The Loop
Play Sound
Poreotix

Season
Season Five
Region
West
City
Westminster
State
California
Place
1st
Members
Matt "Dumbo" Nguyen
Can Nguyen
Charles Nguyen
Justin "Jet-Li" Valles
Lawrence "Law" Devera
Chad Mayate
Poreotix are a dance crew from the fifth season of America's Best Dance Crew.
Before ABDC
[
]
 Originating from Westminster California, Poreotix (or often spelled Poreotics) was formed in 2007. Six members currently stand in Poreotix: Matt "Dumbo" Nguyen, Chad Mayate, Can Nguyen, Charles Nguyen, Justin "Jet Li" Valles and Lawrence "Law" Devera. The Poreotix style of dancing consist of popping, choreography, and robotics (which put together makes the crew name Poreotics) and a touch of comedy into the mix.
America's Best Dance Crew Season 5
[
]
Poreotix have auditioned for Season 5 and have made it to the show. On The Live Season Finale, they were crowned the new champions
Aired on Feburary 11, 2010
Poreotix made it to the regionals of ABDC, The West, where they were the last crew to perform, Mario ask a question of Poreotix about their sunglasses, on why they wear them. Where Can jokingly responding "Well, it's because we are the Asian, and have the small eye, so and we like robot" which gained them fanbase from the beginning. Poreotix danced to master mix of Love Story by Taylor Swift(an ABDC first). Their performance ended where they played off of the VMA's inccident with Kanye West. JC said he loved the performance, but said there was nothing diffuclt, but it was so wildly entertaining. Lil Mama stated that it was the best performance of the night in her opinion. They were then saved from elimination that night.
Aired on February 18, 2010
On the start of the national competition, each crews was given a monster hit song, where they have to use the song for inspiration for this weeks performance. Poreotix was given "Day 'N' Nite" by Kid Cudi, where they performed a sleepy time routine. JC stated that their routine was just isolations, telling them to find something different from "tic-tic-tic... tic-tic-tic, tic-tic-tic-tic-tic-tic-tic". Never the less, they were saved from elimination.
Aired on February 25, 2010
Just like Season's 1 & 2, the crews were given music videos from the past decade and have to create a performance with the actual video showing. After the first voting of the season, Poreotix was the first crew saved by Americas vote, they were given "Umbrella" by Rihanna feat. Jay-Z. JC said it was a good performance but still nothing complicated about it. Lil Mama agreed, saying it could have been better. Omarion said that they could have brought the video to life a little better.
Each crew was given one of Lady Gaga's hit songs and must perform a routine inspired from the video. Since of a technical problem with the voting, the votes from last week was not counted and all crews were safe from elimination. After everyone performed, the judges chose the crew who will get immunity for next week. Poreotix was given "Paparazzi", where they used crutches in the routine. JC felt the choreography in the middle was a little boring. In the end, Poreotix was not the chosen crew to get immunity.
The remaining 7 crews haver to give classic 70's disco songs and moves a hip hop update, in addition, the crews had to perform a lift in the routine. After America voted, Poretix was saved from the double elimination. They performed to "Dancing Machine" by Jackson 5, where they performed Michael Jackson version of "The Robot". After 3 weeks of hard critique, Poreotix were finally able to impress JC this week. Omarion commented that this challenge showed a different side of the crew.
The five crews were given some of Usher's hottest tracks and Usher will give the crews a challenge for this week via videotape(similar to the Beyonce Challenge in Season 4). Poretix was given "Yeah!", where in the chorus, Ludacris sang "Take That, And Rewind It Back!", where Usher challenged the crew to some of his moves in reverse. Lil Mama stated that the crew was very clever in the routine. JC commented on the crew's athlectics in the routine. Omarion felt that their choreography may needed a little more difficulty.
The final four crews had to incorporate magic in their routine. Poreotix was told to move an object with their minds. Poreotix performed to "Right Hand Hi" by Kid Sister (which was orginally going to be their chosen song in the regionals but was changed.) JC stated they owned their challenge, but thought they could have killed it.
This week, the final 3 crews had to display a mastery of dance styles from across the nation: The Baltimore House, The New Orleans Bounce, and Turfin'. Poreotix found themselves in the bottom 2 for the first time against Hype 5-0. Poreotix had difficulty with The New Orleans Bounce, saying they have "Asian Booty Disease(ABD)". JC said that Poreotix are some "funny dudes". Complementing that they handle their business, but noted that Justin "Jet Li" Valles got lost in the Baltimore House section. Omarion said this is what he has been waiting this whole season of Poreotix, saying they had a great performance. In the end, Poreotix was saved from elimination.
For the Last Chance Challenge, each crew got to work with producer Swizz Beatz to make their encore performance music. Poreotix made their music with the video game feeling. They named the encore performance "Tetreotix". They incorperated a giant game console prop in the routine.
It has come down to Poreotix and Blueprint, tonight, Poreotix teamed up with the fellow West Coast Crews Hype 5-0 and Heavy Impact to represent the West to "Blah Blah Blah" by Kesha feat. 30H!3. After that, they performed together with Blueprint Cru for a steppin routine to Pusle Percussion. After looking back at they're journey on ABDC, nearly 15 million votes were cast and Poreotix was named the new champions. They closed off the show with they're victory performance to "I Made It" by Kevin Rudolf.
[

]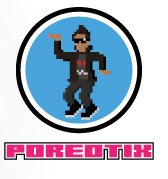 Description: The crew's banner represents them as boys who love to dance robotics and wearing black shades. The banner's logo seems to be their symbol made out of bits.