Mos Wanted Crew

Season
Season Seven
Members
Brian Puspos
Bam Martin
Ian Eastwood

Jun Quemado

Jawn Ha
JP Goldstein
Lando "Dang Bang" Wilkins
Ricky "Rick Rawk" Cole
Mos Wanted Crew is a known dance crew who came from Los Angeles, California. This crew managed to gain many fans because of their performances in the World Of Dance. The founder of the crew Myron Marten is the current executive producer to the World Of Dance Tour. Mos Wanted Crew became famous throughout the internet from their channel on Youtube which feauture's the group perfomances, choreographies and solos. The crew is made up of choreographers and dance instructors that are planning at a chance of being called America's Best Dance Crew.
Before ABDC
Mos members of the crew had been part of other crews that lost and had participated in ABDC like Lando Wilkins and Bam Martin's involvement with Boxcuttahz, Jun Quemado's involvement with Team Millenia, and the involvement of Brian Puspos of Soreal Cru, though some of them had not been proclaimed champions, the crew took a shot at being declared America's Best Dance Crew. Before MWC (Mos Wanted Crew) was created, Myron Marten, who had a position at World of Dance, together with member Jun Quemado, planned to create a crew that could represent the community of dancers all over the world. Having mutual friends, also choreographers, Jun later formed up a crew that could stabilize their mission and represent dancers. The members of the crew garnered considerable fame after posting videos online and teaching in many dance worskshops and studios. They immediately had a fanbase created by MWC fans worlwide. To be a symbol of inspiration of dancers they decided to enter the sixth season of America's Best Dance Crew but unfortunately was not able to enter the show. Originally 7 members, Ian Eastwood a teenage choreographer and instructor, was invited by the crew to join the team in entering the latest season of ABDC The Return Of The Superstars.
ABDC season 7: The Return Of The Superstars
Week 2: Flo Rida Challenge
All the last batch made out of five crews had an opening number with Flo Rida himself into his song "Wild Ones". All crews were given a song of the artist to develop a routine with. They were no challenges this week which means they have to develop a performance of their style. Mos Wanted Crew performed to a mastermix of Flo Rida's "In The Ayer". Their performance was clean and there wasn't any big tricks, ending the performance, member Ricky "Rick Rawk" Cole did a backflip that wowed and gave the audience a wild vibe. The judges gave the crew positive reactions and no single critic was given.
Week 3: Madonna Challenge
In this week, crews were given the chance to perform onstage one of the famous hits by the artist Madonna. The challenge was to incorporate a specific dance move on the music video of their song to their routine. Mos Wanted Crew was selected to perform to a mastermix of "4 minutes" by Madonna ft. Justin Timberlake and their challenge was to incorporate "popping" in their routine. Bam Martin and Jun Quemado had difficulty in executing popping in the routine in which Bam stated "he was more of a student than of a teacher" that week. While the crew had diffiuclty their performance was great and also clean. Judge D-trix commented that they were all sexy and gave Brian Puspos praises during the moment on the routine where he was activating all of the crew's members and a expressed a gag about Ian Eastwood looking all "cute". He also praised the crew for still not incoporating big stunts in the week's challenge.
Week 4: Drake Challenge
This week, crews were given songs of the artist Drake to develop a performance with. The challenge was to pick a lyric of their song to "bring it up" on stage during their crew's performance. They must have the creativity to be able to "bring life" to the lyric they choose. Mos Wanted Crew received the song "The Motto" and chose the lyric of the song "Tell Tune, Light one pass it like a relay" in which they had to make a relay in their routine. The crew performed with clean and artistic choregraphy with turns and eventually created the relay in their routine in which they had caps and make a relay out of the caps. Judge JC Chasez thought of the crew of giving again a "Fantastic" performance. Lil Mama praised their choreography as well as the routine. But, Judge D-trix was a little not satisfied of the crew's performance and stated that "They could've done something else more creative" but still was giving a performance a positive view. 
Week 5: J.Lo ChallengeMA2 Boyz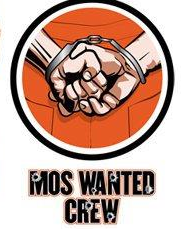 Description: The crew's banner appears to be the hands of a person handcuffed creating the insignia of the crew.