Jurassic World: Dominion Dominates Fandom Wikis - The Loop
Play Sound
This was first episode in season 6.
Plot
[
]
After Poreotix winning a golden bboy, ten more crews from North Hollywood to Boston take on ABDC Season 6. This season is huge in every way. This season, every episode will be dedicated to one artist in the music biz. Second, the youth has major representation with 15-year-old Olivia "Chachi" Gonzales from I.aM.mE. and the ICONic Boyz! Third, D-Trix from Quest Crew comes as the newest jugde. To start off ABDC 6, the first five crews (I.aM.mE., Phunk Phenomenon, ReQuest, Eclectic Gentlemen and Street Kingdom) did an opening number to "6 Foot 7 Foot" by Weezy featuring Cory Gunz.
Performance Details
[
]
"6 Foot 7 Foot"
[
]
The first five crews started off Season 6 by a group performance by brain- bangers I.aM.mE.,  sexy- smooth Eclectic Gentlemen,"Polly swaging" ReQuest, Boston's Phunk Phenomenon and the actual innovaters of krump, Street Kingdom.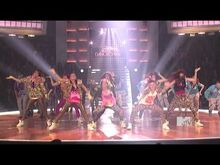 Songs
[
]
All of the songs featured have vocals from the rapper Lil' Wayne.
6 Foot 7 Foot featuring Cory Gunz (group performance)
Right Above It featuring Drake (I.aM.mE.'s performance)
A Milli (Phunk Phenomenon's performance)
Knockout featuring Nicki Minaj (ReQuest's performance)
Fireman (Eclectic Gentlemen's performance)
I Am Not A Human Being (Street Kingdom's performance)
Elimination
[
]
The crew eliminated was Eclectic Gentlemen. The elimination process is showed in the video above.