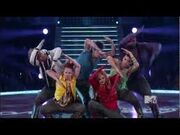 Ill-emental was one of the Last Chance Challenges performed in Season 6. It features I.aM.mE. showing what elemental power they symbolically posses.
Pacman: I.aM.mE. We, we design unique 'till your eyes roll back to find your mind in pieces. Of a hole in a skull with a role to play and soul with a mark to make life make sense for free by never forgetting what we were ment to be: our identity.
Emilio: I am Earth.
(dance beat)
Chachi: I am Fire.
(dance beat)
Ja ja: I am Electricity.
(dance beat)
Brandon: I am Wind.
(dance beat)
Moon: I am Machine.
(dance beat)
Pacman: I am Water.
(dance beat)
So who are you? 
All: I.aM.mE!
People/Crews featured in this performance
Edit
I.aM.mE.

Phillip "Pacman" Chbeeb
Brandon "747" Harrel
Di "Moon" Zhang
Emilio "Millie" Dosal
Olivia "Chachi" Gonzalez
Dzajna "Jaja" Vankova
Community content is available under
CC-BY-SA
unless otherwise noted.